News
2010-10-14: We at SwirlySpace are excited to announce the free and groovy SwirlySMS free for iPad 3G!
SwirlySMS free for iPad 3G is, as the name implies, free — free as in gratis — and it brings native SMS text capabilities to the iPad 3G! So, using SwirlySMS free for iPad 3G you can send and receive text messages to and from your friends standard cell phones. Please note that because this is native SMS, you must have a SIM card in your iPad 3G and your carrier must have enabled SMS on your service plan.
In addition to this groovy release, we are also releasing four application updates, two for the iPad 3G and two for the iPhone:
SwirlySMS for iPad 3G 1.1, features: native SMS, no ads, instant reply, SMS delivery notification. Available in Cydia for $4.99
SwirlyMessage for iPad 3G 1.1, this is our premium messaging application for the iPad 3G with full support for native MMS and SMS as well as SwirlyNet messaging, with the new features: instant reply, SMS delivery notification. Available in Cydia for $12.
SwirlyMMS 2.4.3, this is our premium messaging application for the iPhone with full support for native MMS and SMS as well as SwirlyNet messaging, runs on iOS 3.0-4.1. Available in Cydia for $12.
SwirlyScreen 2.1.2, this is our dual lock screen cydget for the iPhone (iOS 3.0-4.1), available in Cydia for $1.99.
We at SwirlySpace began developing iPhone apps exactly three years ago and over the years we have developed a number of messaging applications for the iPad and iPhone. To clearly show what the different messaging applications are capable of we have put together this simple overview.
2010-10-11: An app comparison matrix is now availabe
Please have a look here.
2010-09-29: A new SMS-only app for iPad 3G called SwirlySMS is now available
The app allows you to send and receive native SMSes. Have a look at our demo video below and read all about it here.

2010-08-26: Video showing SwirlyMessage in action by iPadevice
iPadevice has done a nice video showing SwirlyMessage in action. Please have a look.

2010-08-19: MMS & SMS now available for the iPad 3G
Now you can send SMS, MMS and SwirlyNet messages on your iPad 3G. We call it SwirlyMessage for iPad 3G, others plainly call it marvellous. Read more about it here.
2010-05-16: MMS & SMS on the iPad using SwirlyMMS
Using a modified version of SwirlyMMS for the iPhone, this video shows that we can now natively receive and send MMS from and to an iPad 3G!
So, just to be clear, this MMS is sent *natively* via carrier networks and NOT via our free and otherwise great service SwirlyNet.
We are currently working on a new GUI for the iPad but as this movies demonstrates all technical pieces are in place that allows SwirlyMMS to send and receive MMS and SMS using the iPad!
So, watch out for this in Cydia in the near future!
2010-04-29: SwirlyMMS ver 2.3 has been released in Cydia



SwirlySpace is proud to announce ver 2.3 of SwirlyMMS, the first and most complete MMS app for the iPhone. Ver 2.3 is packed with new features like text-to-speech, 3gp video encoding, SMS and free-of-charge messaging over SwirlyNet(*). Below follows a selection:
1) real text-to-speech of MMS text parts and SMS text! (3GS only):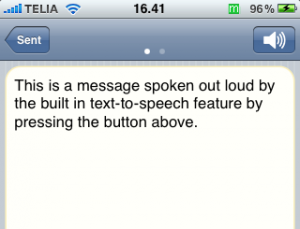 Hear a sample.
2) handles SMS, both to send and receive: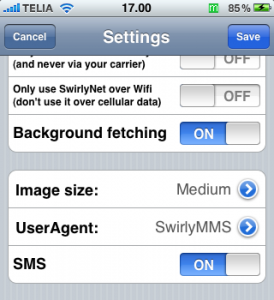 3) MOV-videos are now converted to the proper 3gp-video format when sending a (carrier network) MMS. When your message instead takes the way over SwirlyNet(*) no conversion to 3gp is made to preserve quality at its best (3GS only):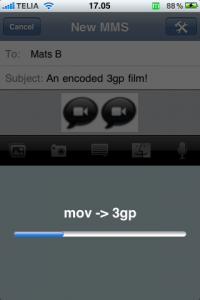 4) icons to indicate the message type. Below you can see the SMS, MMS and SwirlyNet types respectively: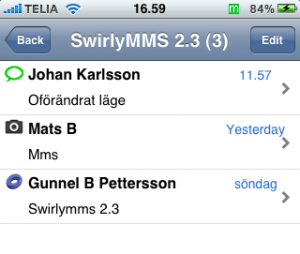 5) editing of existing text parts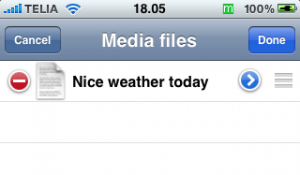 6) photos that are snapped from within SwirlyMMS are now also stored in your camera roll.
7) a whole lot of minor bug fixes.
For more information about SwirlyMMS and SwirlySpace please have a look here.
SwirlyMMS ver 2.3 is hosted by BigBoss.
(*) SwirlyNet is a free-of-charge messaging network that integrates seamlessly with SMS and MMS. Today (2010-04-28) with around 14000 connected users. You can read more about it here.
2010-04-27: WeekInCal by Swirly has been released
WeekInCal by Swirly is an extension to Apples MobileCalendar app. WeekInCal shows the week number WITHIN the MobileCal app as well as on its icon. WeekInCal is available for free in Cydia and is hosted by BigBoss. Screen shots here.
2010-02-11: SwirlyNet Press Release!
SWIRLYSPACE LAUNCHES WORLD`S FIRST MOBILE APPLICATION FOR FREE MMS & SMS MESSAGING
Late in 2009, the premier version of SwirlyNet™, the new cool feature of iPhone application SwirlyMMS², was launched. Now more than 10 000 clients have started to use SwirlyNet™ to save money when messaging. SwirlyNet™ allows iPhone users to send and receive messages (SMS and MMS) for free via the Internet without any expensive carrier fees. Any message sent to and from a SwirlyNet™ attached iPhone, via Wifi or over a flat rate data plan, is sent without any cost at all.
Inspired by Skype and enabled by the third-party development supported by iPhone SwirlyNet™ is the world´s first mobile application for free MMS and SMS messaging.
This extraordinary feature integrates transparently with the normal send- and receive activities meaning that you send to your friends by addressing them with their phone number as usual. An indicator will let you know whether the message was sent or received via SwirlyNet™ or the ordinary carrier network. Soon you will notice how low your messaging bills are becoming!
The SwirlyMMS² application is available for USD 12 for jailbroken* iPhones via Cydia Store. SwirlyNet™ enabled messaging apps are also being developed for Windows Mobile and Android cell phones.
For more info and instructions on how to download and install SwirlyMMS², have a quick look at this page.
*Jailbreaking is done in order to liberate the iPhone OS from Apple's rules for third party applications and release the iPhone's true technological potential. It is estimated that around 10% of all iPhones, equivalating with 4 million units, are jailbroken. Read more on jailbreaking here and here and on Cydia founder and iPhone guru Jay "saurik" Freeman's site.
ABOUT SWIRLYSPACE
SwirlySpace AB is based in Sweden, and is developing advanced applications for mobile platforms like the iPhone, Android and Windows Mobile units. The products of SwirlySpace are available via Cydia and App Store. SwirlySpace AB has already reached a worldwide leading position in MMS solutions for the iPhone with more than 3.000.000 downloads of its premier product, the SwirlyMMS-application.
http://swirlyspace.com
2009-11-27: Testimonials about Rövarspråket (Swedish articles)
Rövarspråket in GP
Rövarspråket at IDG
2009-11-20: SwirlySpace published two(!) new applications today!
One app, SwirlyScreen, targets the Cydia Store and the other Robber-Lang targets Apple's App Store.
The Cydia Store app is called SwirlyScreen and it is a nifty lock screen plugin, which adds seconds and current week number to the time and date labels that is shown when you awakes your iPhone from its sleep by pressing the power button or the home menu button. Being able to quickly get the seconds and week number is very nice for all of us who like punctuality and for those who plan their schedule according to weeks (as most Swedes do for example).
As this was not enough, SwirlyScreen also shows a random photo from your Camera roll and tags it with the date and time it was photographed! It can be hard to remember all the photos you have taken, thus every time when you wake your iPhone up, you will be reminded of the special moments you immortalized with your iPhone camera. SwirlyScreen will bring many smiles to your face for sure!
The App Store application is called Rövarspråket in Swedish, Robber-Lang in English. The Robber Language is a simple code language mostly used by children. It became well known from Astrid Lindgren's books about Kalle Blomkvist (yes, that Astrid Lindgren author of Pippi Longstocking, Emil, etc).
Robber-Lang features instant text translation back and forth between normal language and the Robber Language, as well as a text-to-speech audio translation of the Robber Language! Also, it allows you to email both the Robber Language text and the generated audio speech mp3 to your friends!
2009-10-24: SwirlySpace's first AppStore application is live!
It is a simple and useful app for those of us who need help with directions
Name of the app? SwirlyCourse, of course!
2009-10-22: SwirlyMMS² v2.2 and SwirlyNet™ are available today!
We at SwirlySpace are thrilled and proud to announce SwirlyNet™ as well as its enabler SwirlyMMS² v2.2!
SwirlyNet™ allows you to send and receive MMSes for free to and from your SwirlyMMS² v2.2 friends! Yes, it really is free/gratis to send MMSes within SwirlyNet™!
To activate SwirlyNet™ just go to the Settings->Activation section in SwirlyMMS².
You send and receive MMSes in the same way as you always have. The only difference is your drastically reduced MMS bills. Is that good or is that good?
You can now save MP3 audio as iPhone ringtones and MMS alert sounds!
Select and deselect all messages when editing the content of a messages folder.
2009-06-03: Information and SwirlyMMS² roadmap
2009-04-28: SwirlyMMS² has been released!
SwirlySpace is very excited to announce the new and groovy SwirlyMMS² available in Cydia Store now! It is packed with shiny new and electrifying features:
Built-in voice recorder.
Save a received audio clip as an iPhone Ringtone or as an MMS alert sound.
Customize the MMS alert sounds to any sound of your choice.
Reply to a received MMS with a normal text SMS.
Visual feedback on delivery status (a green check when the MMS has been received by the recipient).
Attach a signature of your choice to every MMS that you send.
Attach your current GPS location automatically to the MMSes that you send.
When retrieving a GPS location, it can be viewed in .
Save your draft MMSes to the Drafts folder.
2009-04-01: Microsoft buys SwirlySpace as well!
In a further attempt to catch up with Apples unprecedented success with its iPhone, Microsoft decided to buy SwirlySpace AB. Mr S Ballmer and the directors of SwirlySpace had a fruitful meeting on Avenyn in Gothenburg, Sweden earlier today (2009-04-01) and came to an agreement.
This is the second major involvement in the iPhone community made by Microsoft today. Earlier this morning, Mr J 'saurik' Freeman announced that Microsoft will also buy Cydia!
SwirlySpace AB
http://swirlyspace.com
Developers of SwirlyMMS, the only true MMS application on the iPhone.
UPDATE: This was just an April Fool's joke - of course. Seems that a few people were fooled
2009-03-05: SwirlyMMS "opens up"!

We often get all sorts of questions, requests and wishes from other business firms and indie developers about being able to use SwirlyMMS as a tool for sending MMSs. Therefore, we are happy to announce that we shortly will provide a public API that will enable other iPhone applications to send MMSs! This API will be accessible to any type of iPhone application, e.g. an App Store app via custom URL schemes. More information and documentation will be published soon.
A new topic section: SwirlyMMS Open API has been added to our forum.
2009-03-05: SwirlyMMS v1.3.1 released.

This is a minor update that fixed two bugs in the 1.3 release earlier this week: a formatting error of plain text files and a correction of multiple MMS notifications. Also, with this release we added a bunch of new language files to the LangPack bundle available via Cydia: Spanish, Finnish, Hebrew, Italian, Slovenian, Turkish, while the Chinese and Danish language files were updated.
2009-03-02: SwirlyMMS v1.3 released!

SwirlySpace is proud to announce the release of version 1.3 of SwirlyMMS. The major features added in this release are a new compose view with its address-auto-lookup, several other GUI enhancements, an improved core and that SwirlyMMS is now available in twelve different languages.
At first startup of this version all current SwirlyMMS customers will be prompted to download a new license. Just press "Get License" and you should be off MMSing again.
Together with this release we have also reset the demo license database giving all users another two-week-trial period.

If you have comments on the translations or if you want to see your language among the supported please don't hesitate to contact us at [email protected]

As usual, details can be found in the Release Notes.
2009-01-13: What has happened since last…

We have released version 1.2.15 SwirlyMMS. As usual, details can be found in our Release Notes.
And, we finally decided to try twitter out: http://twitter.com/swirlyspace
2008-12-27: SwirlyMMS 1.2.11 has been released

SwirlyMMS version 1.2.11 makes it much easier for new-comers to set things up since it has a built in function to get the correct settings. We are currently (as of December 27th) building up this database of settings so the first few days it might be that you cannot find your particular settings. We plan to have the whole settings database more or less complete within a week or two.
We have also cleared all demo-licenses making it possible for everyone with old and expired licenses to try SwirlyMMS out again.
For a more detailed list of release notes, follow this link.
2008-12-01: SwirlyMMS available in China

Since lots of SwirlyMMS users in China are not able to buy SwirlyMMS via Paypal, we have partnered up with Weipeng Gao who sells SwirlyMMS on taobao.com, which is an auction site similar to eBay.
More details available here!
2008-11-23: SwirlyMMS v1.2.10 released
SwirlyMMS v1.2.10 has been made available today to accommodate the just released iPhone 2.2 Firmware Update. Thus, SwirlyMMS v1.2.10 runs on all 2.x versions of iPhoneOS. As usual, you will find it in Cydia's Featured Applications list.
2008-11-07: SwirlyMMS v1.2.9 released
A new release of SwirlyMMS has been submitted to Ste, who hosts our application in Cydia. It will hopefully show up in Cydia's changes tab very soon.
Release notes for SwirlyMMS version 1.2.9
- New UserAgent for AT&T (Samsung BJ2)
- Check if EDGE/GPRS is disabled at startup. If it is, show a warning
- Proper icons for audio and video media parts
- A minor error in the media parts editor has been corrected
- Several stability issues fixed
2008-11-07: Re-launch of the site.
Today we re-launched this site. We hope you find the information more accessible!